1908 History of the Swedes of Illinois
FRITZ CHARLES NOEL, editor and part owner of the Leland Tunes, is a native of Stockholm, where his father, Fredrik Adolf Noel, was a manufacturer. The younger Noel was born May 11, 1867, and educated at the Hernosand Seminary, at the elementary school at Ladugardslandet in Stockholm and at the City of London College.
In 1888 he emigrated, going to Montreal, Canada, where he remained for three years, and began his journalistic career with the Montreal Herald. Ten years were next spent in Chicago in the service of the Chicago Tribune. Five years ago he removed to Leland and became interested in the local newspaper, the Times, the editorship of which he has since assumed. Besides his interest in this paper, he is a member of the Leland Publishing Company, publishers of art calendars for the trade.
Mr. Noel has not held political office, but is active in local political affairs, and that his opinion carries weight may be inferred from the fact that he has been called in as advising member of the County Central Committee.
He is a Lutheran and a member of the Bethany Church, together with his family, consisting of his wife, Martha Audrine, nee Klove, whom he married Sept. 18, 1895, and two children, Gladys Josephine, born 1898, and Fredrik Andrew, born 1906.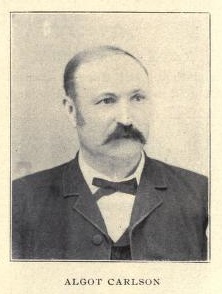 ALGOT CARLSON, who conducts a grocery and meat market at Streator, was born in Langemala parish, Smaland, Sweden, Feb. 2, 1851. Twenty years later he came to the United States and lived for some five years in Jamestown before locating permanently here. He has now resided here continuously for thirty years and has been a merchant for twenty-five years. He has been repeatedly elected president of the Scandia Club of Streator, is a prominent member of the local lodge of Odd Fellows, Knights of Pythias and Maccabees. Confessionally he is a Methodist, belonging to the First American M. E. Church of Streator. Mr. Carlson's parents, Carl Magnus and Lena Kajsa Pehrson, are farmerfolk at Langemala. Mrs. Carlson is a daughter of John Samuels of Streator, and was born in this city, Nov. 10, 1863. The couple were married Nov. 15, 1879. Mrs. Carlson died April 3, 1903. The following six children have been born to them, viz., Carl A., John E., Oscar A., Linda J., Alma A. and Arthur W., the last named being dead.
Extracted 17 Sep 2016 by Norma Hass from the History of the Swedes of Illinois, published in 1908 by Engberg-Holmberg Publishing Company, Part 2, page 209-210.