Biography - WILLIAM ROE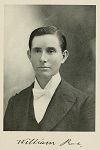 This is the age of the young man, and young men have come to the front in these last years of the nineteenth century who will give an impetus to commerce, to science, to education, to professional success and to moral, literary and religious progress which will make the twentieth century a landmark in the world's history. In our mixed blood is the concentrated spirit of pioneers who loved liberty and were willing to risk their lives for the right and for the opportunity to earn comfort for their wives and their children, and the Scotch strain promises as much for the moral and intellectual future of our country as any other.
William Roe, attorney-at-law, LaSalle, Illinois, was born in Ayrshire, Scotland, August 13, 1868, a son of Thomas and Mary (Jamieson) Roe. His father was of Scotch, his mother of Irish nativity, but Mrs. Roe's father had some Scotch blood in his constitution and had a Scotch name. They came to the United States in November, 1884, and immediately thereafter settled at Oglesby, LaSalle county, Illinois, where Thomas Roe died, in November, 1891, at the age of fifty-eight. His widow is living at LaSalle, now in her sixty-fourth year. Mr. Roe was a coal-miner of many years experience, a man of reading and intelligence and a patriotic citizen who adapted himself to the American ways and did honor to American citizenship.
When the family came to this county William Roe was sixteen years old. He had left school, in his native land, at the early age of thirteen and began to work in the coal mines. After his arrival at Oglesby he resumed mining in the mines of that vicinity. He spent one year at Spring Valley, where the family lived for that time. In 1891, before he was twenty-three, he began the study of law, reading evenings and working in the mines during the long days. But while he worked he also studied and reasoned and acquired a habit of mind which has since been of much service to him. He was admitted to the bar in December, 1894, and entered upon the practice of his profession at LaSalle early in the succeeding year. His fellow-townsmen know that he has been successful, and they know, too, that he has won by methods honorable and legitimate, with due regard for the law, for the courts and for himself. He is an active citizen, who looks at public questions from the Republican point of view, and takes a helpful interest in every movement for the general good. He is identified with the First Congregational church of LaSalle, and is helpfully interested in all its work, and is a member of the Modern Woodmen of America. Much of his spare time he has devoted to literature, and he is the author of numerous poems of more than ordinary merit. One of these, William Roe's Farewell Address to his Sunday-school Class of the Oglesby Union Church, has had an extensive local circulation and is much admired.
Extracted by Norma Hass from Biographical and Genealogical Record of LaSalle County, Illinois published in 1900, volume 1, pages 384-385.