Biography - ENOCH H. PEDERSEN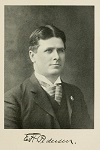 Enoch H. Pedersen, of Sheridan, Mission township, owes his success to his own efforts, his energy, industry and laudable ambition being the elements whereby he has won a place among the substantial citizens of LaSalle county.
He was born in Leland, this county, June 14, 1861, a son of Peter H. and Lavina (Hanson) Pedersen, both of whom were natives of Norway. His grandfather was Halvar Pedersen, who with his family, consisting of a wife and four children, emigrated to this country in 1843. A settlement was made in Mission township, this county, and four years later they removed to Leland, where the grandfather spent his last days. He was a farmer by occupation but spent his last years in retirement. Peter H. Pedersen entered the ministry of the Norwegian Lutheran church in early manhood, but after some years devoted to that work he was obliged to discontinue preaching on account of failing health. Subsequently he engaged in merchandising in Leland for seven years. He was married in this county, to Lavina Hanson, who died in 1866, while his death occurred in 1873. They left three children, who are still living, namely: Enoch H.; George M., of Yorkville, Illinois; and Minnie, the wife of Benjamin Johnson, of Cambridge, Iowa. A son, Noah, died in 1865. In 1839, when Mr. Pedersen's mother was three years of age, her parents settled in LaSalle county, near Brumback creek, a few miles north of Ottawa, and here they resided until the following year, when they moved to Adams township in the same county, where many of the family still reside. For a second wife Peter H. Pedersen married Bertha Void, and by this marriage there was one child, which died in infancy.
Mr. Pedersen, of this review, spent the days of his boyhood and youth in Leland, and when nineteen years of age came to Sheridan. He acquired his preliminary education in the schools of the former place and also pursued his studies in Minneapolis, Minnesota, and in Keokuk, Iowa. Afterward he engaged in clerking in a general store two years, and then one year in a drug-store in Leland; and on coming to Sheridan he accepted a clerical position in a general store, which he filled for six years. He then embarked in general merchandising on his own account, continuing in that line of business for twelve years, during which time he had several partners and conducted stores at the towns of Sheridan, Dayton and Yorkville, Illinois. In the fall of 1898 he embarked in the hardware business in Sheridan and was successfully engaged in this line of business until the fall of 1899, when he sold his stock.
In 1885 was celebrated the marriage of Mr. Pedersen and Miss Rose McClary, of Sheridan, the daughter of Thomas and Susan McClary, early settlers of Mission township. They have two sons: Pierre M., born in 1886; and McClary W., born in 1890. Socially Mr. Pedersen is a Royal Arch Mason and a member of the Modern Woodmen of America. In politics he is a staunch Republican, having supported that party since attaining his majority. He keeps well informed on the issues of the day and does all in his power to promote the growth and insure the success of his party. He has served as school treasurer of Mission township for ten years, as alderman of Sheridan for one term, and in April. 1898, he was appointed by John C. Ames to the office of deputy United States marshal, in which capacity he is now serving most acceptably.
In the beginning of his business career Mr. Pedersen did not have wealth to aid him. His reliance has been placed upon the more substantial qualities of perseverance, untiring enterprise, resolute purpose and commendable zeal; and withal his actions have been guided by an honesty of purpose that none have questioned.
Extracted by Norma Hass from Biographical and Genealogical Record of LaSalle County, Illinois published in 1900, volume 1, pages 140-141.