Biography - JAMES EDWARDS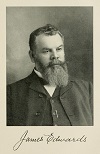 James Edwards, the superintendent of the Peru Plow & Wheel Company, is a native of England, having been born in Redruth, Cornwall, March 16, 1848. This has been the birthplace of the Edwards family for several generations past, the great-great-great-grandfather of our subject having been wrecked on the Cornish coast between Perron and Portreath and located near the scene of the wreck, about two miles inland. Here the family remained and the different members were born down to the birth of our subject, James Edwards. Since then the family have scattered until none of the name are left in that vicinity at the present day.
James Edwards, the father of our subject, began when a boy to work in copper, tin, coal and iron. He became an engineer of ability and was in the employ of one firm, Sparrow & Son, for more than twenty-seven years. He was united in marriage to Miss Grace Bowden, by whom he had three sons and three daughters, of whom James and William are the only survivors. Both parents were Wesleyan Methodists. The wife and mother died in 1885, in her fifty-eighth year, and the November of the next year found the father in Chicago, where he made his home with his son James until his death, on May 29, 1890, at the age of sixty-six and one-half years. His father was William Edwards, a miner and engineer, and a member of the Home Guards militia during the Napoleon wars. He died at the age of fifty-seven, leaving six children. It was the great-grandfather of William who founded the family in Cornwall. The maternal grandfather of our subject was William Bowden, a native of Wendron, Cornwall, and a farmer. The Bowden family were large land-owners and prominent people. William was a soldier in the Home Guards during the peninsular wars, and held a number of township offices. He died at the age of eighty-four years, after rearing six children, — three sons and three daughters.
When ten or twelve years old, James Edwards went to work in a pottery, and later entered the tin and copper mines at Cornwall, where he remained until he was fifteen. He has worked his own way in the world from that tender age, and is a ready sympathizer and helper of any young man who earnestly and industriously strives for advancement. When he was fifteen he began learning the trade of blacksmith, serving his time until he was twenty-one. Two years later he came to America and located in Indianapolis, where he was in the employ of the Cleveland, Columbus, Cincinnati & Indianapolis Railroad for six months. He left them to accept a position as locomotive blacksmith in the Atlantic & Great Western shops at Galion, Ohio. He was there four years and then returned to England, where he was in the employ of the Pendleton Iron Works, and later took charge of the iron works of Bradford & Son. Still later he was connected with the Manchester Carriage Company, and then opened a business of his own. He was in the crockery and glassware business for five or six years, but disposed of his stock in 1886, returning to America in July of that year. He stopped in Chicago and worked in the iron business with Harris & Winslow, the Babcock Fire Engine Company, and R. T. Crane until 1890, when, in December, he came to Peru and took the superintendency of the Peru Plow & Steel Company, the position he still retains. This institution makes agricultural implements of nearly all descriptions and gives employment to a large force of men, nearly two hundred being given steady work. Although the superintendency of this plant is attended with great responsibility and care, Mr. Edwards maintains a calm and courteous manner that is unruffled by the little worries incident to business life. No doubt his great success and popularity are attributable in a great measure to the fact that his men appreciate his kindness and civility and are willing to make extra efforts to meet his wishes in all their work.
Mr. Edwards was married August 20, 1872, to Miss Nannie Williams Bowden, daughter of John and Nannie (Williams) Bowden, of Cornwall. Ten children have been born to them, namely: John Harrison, deceased; William Henry, deceased; Grace Bowden, deceased; James, deceased; Emily; Charles; James, deceased; Gertrude; Nannie; and Henry. The children are living with their parents. Although Mr. and Mrs. Edwards are not communicants of any church, they are believers in the Congregational doctrines and attend that church. He is a member of the Masonic order and both he and his wife are members of the Order of the Eastern Star. He also belongs to the Ancient Order of United Workmen, and is the worthy master of the Mystic Workers of the World. Politically he is in sympathy with the Republicans. Mr. Edwards is temperate in his habits, never tasted beer or tobacco, and has made the golden rule the motto which has governed all his actions.
Extracted 26 Dec 2016 by Norma Hass from Biographical and Genealogical Record of LaSalle County, Illinois published in 1900, volume 2, pages 412-414.