Biography - FRANCIS M. DAUGHERTY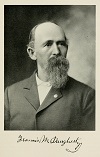 Illinois is noted as the leading agricultural state of the Union, the grain raised within her boundaries being shipped to all parts of the world, supplying food for countless numbers, and her fine farms are the subject of general observation. Perhaps no part of the state contains more fertile or better •cultivated land than that lying within LaSalle county, and among the most productive and well-kept farms of this section is the one owned and operated by the gentleman whose name appears above.
Francis Marion Daugherty was born in Nicholas county, Kentucky, on the 22d of August, 1837, his parents, Thomas and Mary (Swartz) Daugherty, being among the oldest settlers in LaSalle county. John Daugherty, the grandfather of our subject, was a soldier in the Indian wars and was a resident of Kentucky, where his son Thomas was born. The latter grew to manhood in that state and there married Miss Mary, daughter of John Swartz. They both lived to attain good old age, - the father passing away in 1894, at the age of seventy-three years, and the mother being seventy-one years of age at the time of her demise. In his political adherency Thomas Daugherty was a Democrat of the old school. He and his wife became the parents of ten children, concerning whom we offer the following epitomized record: John, a resident of Texas county, Missouri; Francis Marion, the immediate subject of this review; Sarah Willis, deceased; Daniel B., whose life was sacrificed on the altar of his country in the war of the Rebellion, in which he served as a corporal of Company F, One Hundred and Fourth Regiment of Illinois Volunteer Infantry; Rebecca Brown, deceased; Margaret, deceased; Amos, a resident of Chariton county, Missouri; Nancy Ann Smith, of Sumner, that state; and Andrew and Elizabeth, both of whom are deceased.
Francis M. Daugherty came to Illinois in 1858, with his parents, and when he was twenty-four years of age his loyalty and patriotism prompted him to enlist as a member of Company F, One Hundred and Fourth Illinois Volunteer Infantry, with which he served as sergeant. He was offered a commission in the Seventh Kentucky Cavalry, but preferred to remain with his company. He was in a number of the important encounters with the Confederate forces, taking part in the battle of Hartsville and was captured, and also participating in the celebrated battles of Chickamauga, Lookout' Mountain and Missionary Ridge. He was also in the Atlanta campaign, in which he took part in the engagements at Buzzard's Roost, Rocky Face Ridge, New Hope Church, Peach Tree Creek and the siege of Atlanta, and in the engagement at Eutaw Creek he was wounded. He served three years, or until the close of the war, being mustered out on the 6th June, 1865. He was with his command in following Hood into Alabama, participated in the famous march to the sea, thence through the Carolinas and on to Washington, where he took part in the Grand Review.
Returning home after his effective service in defense of the integrity of the nation, Mr. Daugherty turned his attention to the peaceful vocation of agriculture, locating upon a farm of one hundred and sixty acres, which is his present place of abode. In the matter of permanent improvements the farm is well equipped, having a good house and substantial and convenient outbuildings, while the place is kept in a fine state of cultivation. Mr. Daugherty is an acknowledged leader in the farming community in which he has so long made his home. He was the first breeder of Poland-China hogs in the county, and was the first man in his township to use tile to drain his land. In politics he renders stanch allegiance to the Republican party and its principles, and fraternally he keeps alive his interest in his old comrades in arms by maintaining membership in Post No. 68, Grand Army of the Republic, at Streator.
On the 15th of November, 1865, was solemnized the marriage of Mr. Daugherty and Miss Ruth Jefferson, daughter of Robert and Ann (Lock) Jefferson. Of this union nine children were born, of whom seven yet survive. Of the children we give the following brief record: Thomas, a commercial traveler, who resides in Streator, married Miss Lida D. Sederbrand, of that place; Mary Alberta, a successful teacher, is now the wife of F. K. Garver, a commercial traveler of South Bend, Indiana; Robert married Emma E. Holland, of Streator; Jane, wife of Dr. C. G. Reno, of Louisville, Kentucky, was a successful teacher in Otter Creek township, this county; Hattie P. is a graduate of the Streator high school, in the class of 1899; Francis is a student in the Streator high school; William D. is the next in order of birth; Anna died at the tender age of three years; and Rosa, a young woman of exceptional talent, who was a very successful teacher and who gave great promise for the future, was summoned to her heavenly home at the untimely age of twenty-two years, deeply mourned by a wide circle of devoted friends.
Robert Jefferson, the father of Mrs. Daugherty, was a native of England, and his wife was born in Ireland. They came to America and at first took up their residence in Michigan, whence they later came to DeKalb county, Illinois, and from there, in 1852, to Streator, where they passed the residue of their days. The mother died at the age of sixty years, but the father survived her many years, attaining the venerable age of ninety-one years. He was a lifelong Republican, and both he and his wife were members of and earnest workers in the Methodist Episcopal church. They became the parents of five children, namely: Alexander, deceased; Mary Richards, of Bruce township, this county; William, who was a soldier in the One Hundred and Fourth Illinois Volunteer Infantry, participated in all the battles in which his company took part, and on July 21, 1864, while on the skirmish line in front of Atlanta, he was killed by a Confederate sharpshooter; Thomas, who also was a soldier, was a member of Company E, Twentysixth Illinois Regiment, and he died at Scotsboro, Alabama, April 17, 1865, from an attack of pneumonia; and Ruth, who was born near Romeo, Macomb county, Michigan, June 15, 1842, is the wife of Mr. Daugherty, the immediate subject of this sketch.
Extracted by Norma Hass from Biographical and Genealogical Record of LaSalle County, Illinois published in 1900, volume 1, pages 240-242.