Biography - OSCAR D. F. CONKEY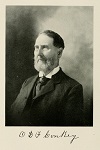 During a period of forty-five years this honored citizen of Mendota has been very actively associated with the development and prosperity of the place, which was a mere village when he came here and located in June, 1854. When he first visited the place, the preceding November, there were but two buildings there. He aided the town in its early struggles, and has ever been its stanch friend and one of its most substantial and trusted citizens.
The ancestors of Mr. Conkey, on the paternal side of the family, were natives of Ireland, but several generations of the name have lived in the United States. Silas Conkey, the grandfather of our subject, was born in Massachusetts, and died in middle life. His home was in Salem, Washington county. New York. His widow, survived him, living to the extreme age of ninety-five years. They were the parents of five sons and three daughters. One of the sons. Colonel Adam Conkey, was the father of the subject of this sketch. He won his title while serving in the New York state militia, and he also was a participant in the war of 1812. His life was passed chiefly in Lewis county. New York, and his long and useful career of ninetyfour years came to a close in 1884. He was a farmer by occupation and lived many years in Martinsburg, New York. His wife, Elizabeth (Lee) Conkey, had preceded him to the silent land about twenty years. She was one of several brothers and sisters who were born and reared upon a farm in the Empire state, and was of English extraction. She was a devout member of the Presbyterian church, and her noble Christian life was a power for good in the community where her lot was cast. Of her four sons and four daughters four are still living, namely: Amanda M., wife of D. D. Guiles, of Wellington, Kansas; Oscar D. F.; William F., of Iroquois, South Dakota; and Adelia M., now Mrs. Thomas Wilson, of Cleveland, Ohio. The others died in early life.
The birth of Oscar D. F. Conkey took place in Martinsburg, Lewis county, New York, December 1, 1821. He was reared in his native locality and supplemented a district-school education with a course in Lowville Academy. In 1843 he came to the west by way of Milwaukee, and spent one winter in Milwaukee and two summers and a winter in Batavia, Illinois. He then went to Massillon, Stark county, Ohio, where he operated a line of boats on the canal until the fall of 1853. At that time he returned to the west on a prospecting tour, and, being pleased with the country around and about the present town of Mendota, decided to locate here. The Burlington railroad was then in course of construction. He purchased land and the following summer he brought his family and became a permanent resident of the place. The Burlington railroad was built through Mendota in the winter of 1853-4, and Mr. Conkey embarked in the grain and general merchandising business. For about three years after his arrival here he remained in the general merchandise business and then sold his interest therein. From 1857 until 1888 he gave his entire attention to the buying, selling and shipping of grain. He won success and a goodly fortune in the legitimate channels of trade, and may justly be proud of his honorable record as a business man. At various times he has made judicious investments of the capital which was accumulated by his energy and zeal, and at present is interested in the coal business, which is carried on by his son, Harry, and is the treasurer of the Mendota, Troy Grove & Clarion Insurance Company.

On the 8th of February, 1851, Mr. Conkey married Miss Lucy Rex, and four children, all now dead, were born of their union. The oldest and youngest of the children, with their mother, were drowned in June, 1861, when they were attempting to cross a creek near Troy Grove. The stream was much swollen by recent heavy rains, and the little party were completely at the mercy of the flood. The second marriage of Mr. Conkey was celebrated February 8, 1865, Miss Elizabeth S. Eaken, a daughter of John Eaken, being his bride. Three sons were born to them, of whom George, the eldest, died in infancy; Arthur was summoned to the better land when about sixteen years of age; and Harry D. alone remains. He is engaged in the insurance business and also the coal business in Mendota, as previously noted, and is an enterprising, wide-awake young man, with a promising future. On April 19, 1899, he married Miss Elizabeth Wilson, of Mendota, daughter of M. Wilson, the present recorder of LaSalle county. Since 1855 Oscar D. F. Conkey has been a Master Mason, and he has many sincere friends in the fraternity. He and his estimable wife are active members of the Presbyterian church, he being a trustee and treasurer of the board of officers. For a number of years he has served as a member of the board of education, always upholding progressive methods. For years he acted as one of the city aldermen, and in his political convictions he is a stalwart Republican.
Extracted 26 Dec 2016 by Norma Hass from Biographical and Genealogical Record of LaSalle County, Illinois published in 1900, volume 2, pages 448-450.