Biography - WILLIAM H. CONARD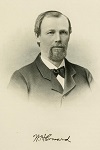 William H. Conard, of Ransom, Illinois, is a prominent farmer and stock-raiser of Allen township, and this biography of the representative men of LaSalle county would fall far short of its object did it not contain a synopsis of his life.
He is a native of Licking county, Ohio, born November 9, 1843. The ancestors of William H. Conard were undoubtedly Germans, the correct name being Conrad; but neither the date of their settlement in America nor the manner in which the name became changed can be definitely ascertained. Certain it is, however, that for a number of generations prior to the Revolutionary war his ancestors resided in the colony of Virginia and were respected people in that aristocratic old state. The grandfather of our subject, Anthony Conard, was a soldier of the Revolutionary war. Anthony was born at the foot of the Blue Ridge mountains in Loudoun county, Virginia, in the year 1760, and was but a mere boy when he enlisted in the patriot army. After the war he resided in Virginia, near the plantation of General Washington, with whom he was personally acquainted. The father of Anthony Conard was John Conard, a native of Virginia. His children were Anthony, John, Johnathan, Nathan, Joseph and Susan. In 1827 Anthony Conard emigrated to Ohio, lived one year in Belmont county, and then located in Licking county, same state, near the village of Utica, where he died, in 1843.
Anthony Conard, Jr., the father of our subject, was born in Loudoun county, Virginia, October 16, 1799, and emigrated to Licking county, Ohio, in 1828, remaining there until 1847, when he emigrated to LaSalle county, Illinois, and died in Crawford county, this state, December 26, 1851.
He married Nancy Gregg, a native of Virginia, on the i8th day of January, 1821. She was born October 15, 1802, and died in LaSalle county, Illinois, on the i6th day of December, 1847. Their children were Mary E., Elinor, David W., Charles W., Amelia, George W., Nelson, John, Nancy, James W., Melvina M., Joseph W., William H. and Rebecca L.
William H. Conard removed with his parents from Licking county, Ohio, to LaSalle county, Illinois, when but three years old. Soon afterward he was left an orphan and he was cared for by his friends until he was nine years old, when his sister Nancy was married to P. W. Jacobs, of Serena township, and was adopted by them until fourteen years of age. He helped them on the farm in summer and attended district school in winter. At the age of fourteen years Mr. Conard started out in life for himself, inheriting nothing but health, an honest heart and willing hands to work. He began working as a farm hand at ten dollars per month and by most frugal habits and economy he saved sufficient from his small earnings in four years of patient labor to begin farming for himself on shares; but just at that time his country was in danger, rebels in the south had seceded and were trampling the "old flag" in the dust. President Lincoln had called for three hundred thousand more men and Mr. Conard could no longer quench the flame of. patriotism with his breast. He sold the little property he had, left the grain in the field to be gathered by others and went to battle for his country. His record in the army is one of honor, and it is with pleasure that we here insert his army record, taken from the "History of the One Hundred and Fourth Regiment of Illinois Volunteers," of which he was a member:
"Sergeant William H. Conard, aged eighteen, a farmer, enlisted from Serena August 14, 1862; was in the Kentucky campaign and the battle of Hartsville in the Tullahoma and Chickamauga campaigns; was present at Elk River and Davis Cross Roads and the battle of Chickamauga, in the battles of Lookout Mountain and Missionary Ridge and the skirmishes following; was promoted corporal for meritorious services May 1, 1864; was in the Atlanta campaign at Buzzards' Roost, the battles around Resaca, New Hope Church, Kenesaw Mountain and Peach Tree Creek. In the last named battle he was severely wounded in the right shoulder and was sent to the hospital, thence home. On recovering he rejoined the regiment at Goldsboro, North Carolina, and participated in the last campaign. Promoted ta sergeant April 7, 1865, for meritorious services. Mustered out June 6, 1865.
"A soldier who could be counted upon in a tight place, on his return home he was tendered a commission as a lieutenant in the regular army by Hon. B. C. Cook, then a member of congress from the Ottawa district, but declined."
Mr. Conard was married, the 20th of February, 1866, to Sarah Belinda Dominy, a daughter of Lorenzo and Sarah A. (Gurnea) Dominy, both of whom were natives of New York. Her parents were among the early settlers of LaSalle county, and here Mrs. Conard was born and reared. She was born March 13, 1845. To Mr. and Mrs. Conard have been born five children, all of whom are living: John M., born January 24, 1867; William L., September 25, 1868; Belinda R., December 15, 1870; David E., November 2, 1873; and Reno J., August 12, 1876. John M. Conard was married to Esther A. Shinn, of Ottawa, Kansas, January 21, 1891, and they have one child, Alberta B., born March 2, 1899. Mr. Conard is a farmer and stockraiser on his ranch in Franklin county, Kansas. William L. Conard was married to Elizabeth A. Martin, of Detroit, Michigan, January 31, 1894, and they have two children: Wilma A., born November 27, 1894; and Harvey M., December 23, 1896. Their home is in Toledo, Ohio. William L. is a professor in the Toledo College. Belinda R. Conard was married to Frank X. Strobel, of Allen township, on January 28, 1891. They live near the old home and are farmers. David E. Conard was married to Nettie Clark, of Dwight, Illinois, February 15, 1899, and is a farmer near the old home. Reno J. lives at the old home, single, and farms his own and a part of his father's farm.
Lorenzo Dominy was born in Clinton county, New York, June 22, 1822, a son of Ezra and Rhoda (Smith) Dominy. He removed with his parents to LaSalle county, Illinois, in 1835, and shared the hardships incident to a new country. He was much respected. He served his town in the capacities of supervisor and justice of the peace, and finally died at his home in Serena township, April 18, 1887. Ezra Dominy was born on Long Island, New York, May 13, 1786, and died January 13, 1879, in LaSalle county, Illinois. Ezra was a son of Henry Dominy, also a native of Long Island, born December 26, 1746, and a grandson of Nathaniel Dominy, one of three brothers who came to America from England and settled on Long Island. Henry Dominy was in the employ of the government and was on Long Island when it was captured by the British. The grandfather of Rhoda (Smith) Dominy was a native of England and also settled on Long Island. Sarah A. (Gurnea) Dominy was born April 21, 1826, in Montgomery county, New York, and now resides in Los Angeles, California. Her father, William F. Gurnea, was born September 15, 1796, in Montgomery county, New York, and died in LaSalle county, Illinois.

Isabella (Peck) Gurnea, wife of William F. Gurnea, was born April 6, 1807, in Montgomery county, New York, and died in LaSalle county.
In the year 1866 William H. Conard bought eighty acres of land on section 35 in Allen township and moved to it in 1867, and here he still resides. He has occupied his time in farming and stock-raising and he has added to the original eighty acres until now, after giving to each of his children a good farm or its equivalent, he still has nine hundred and sixty acres of good land in his possession.
Mr. Conard has served his town in the capacity of school trustee, road commissioner, school treasurer and supervisor. He is an honored member of the Grand Army of the Republic and belongs to the Methodist church. In politics Mr. Conard is thoroughly independent. He votes for men and measures and not for party. The party lash in the hands of party "bosses" finds no victim of obedience in his political action. He votes his convictions without obligations to partisans and believes the purity of the ballot-box can be secured from fraud and corruption only by everyone so doing.
Extracted by Norma Hass from Biographical and Genealogical Record of LaSalle County, Illinois published in 1900, volume 1, pages 228-231.