Biography - CHARLES R. BROWN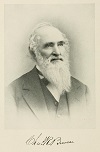 In memory Charles R. Brown can live again the experiences of the pioneer life in LaSalle county and recall the scenes and environments of those days on the frontier when the work of settlement was just beginning and marked progress and advancement were still in the future. His long residence in LaSalle county has made him widely known and his upright life has gained for him the high regard of all with whom he has come in contact.
A native of Vermont, he was born in the town of Brandon, September 28, 1817. His parents were Micah and Phoebe (Merriam) Brown. The father was born at Ashford, Connecticut, in 1876, and was descended from Welsh ancestry. The mother was a native of Walpole, New Hampshire, and was a representative of an old New England family, to one of the collateral branches of which belonged Ethan Allen, the famous general of the Revolution. Charles R. Brown was the eighth in order of birth, of a family of eleven children, namely: James C, Evaline, Caroline, William Violet, Phoebe T., Cyrus M., Mary, Charles R., Albert, Anna D., and Laura Evaline. The father of these children resided in Brandon, Vermont, where his death occurred in 1863, when he had attained to the advanced age of eightyseven years. He served with distinction in the war of 1812, rising to the rank of major.
Charles R. Brown spent his boyhood days upon a farm, and in the common schools acquired his education. When a youth of fourteen years he accompanied his eldest brother, the late Dr. James C. Brown, to Ohio, where he was reared to manhood. For a time he engaged in clerking in mercantile establishments in that locality, but devoted the greater part of his energies to agricultural pursuits.

In 1842 he was married and began his domestic life upon a farm. He wedded Miss Malinda T. Dakin, who was bom in Oakland, Ohio, and died in LaSalle, Illinois, in 1893, at the age of sixty-nine years, leaving an only child, now Mrs. Clara Parrish. In 1852 Mr. Brown and his wife came to LaSalle, but soon afterward he purchased a farm near Princeton, in Bureau county, Illinois, where he made his home for several years. On selling that property, he bought land in LaSalle county, and for many years thereafter was numbered among the most successful and extensive farmers and stock-raisers of the county. He entered upon his business career with no capital save determined purpose and willingness to work. Gradually, as the result of his enterprise and economy, his financial resources increased and he became one of the wealthiest farmers of LaSalle county. He was never a spendthrift, but made good use of his money and acquired it as the result of industry and careful management. He has spent the last few years in retirement from active labor, making his home in LaSalle. He, however, yet retains the ownership of a number of farms, his landed possessions being quite extensive.
Mr. Brown has a wide acquaintance in this county and is uniformly respected by those who know him. He has never sought political office, preferring to devote his energies and time to his business. He has, however, kept well informed on the issues of the day and has thus been able to give an intelligent support to the party of his choice. He cast his first presidential vote for William Henry Harrison, and when the Republican party was formed he joined its ranks and has since followed its banners. One of his old-time acquaintances said to the writer, "You can find no better man in LaSalle county than Charles R. Brown." He has been a successful farmer, a splendid citizen, an honest and upright man and a faithful friend.
Extracted by Norma Hass from Biographical and Genealogical Record of LaSalle County, Illinois published in 1900, volume 1, pages 360-361.