Biography - WILLIAM T. BEDFORD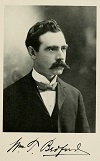 William Turner Bedford, editor and proprietor of the LaSalle Tribune, first saw the light of day on September 18, 1863, in Surrey, England, and was a member of one of the most prominent families of that community. His grandfather, Joshua Thomas Bedford, represented the ward of Farrington Without in the London common council for a period of more than thirty years, and at his death was succeeded by his brother, John T. Bedford, who is still a member of that council. His father was William Henry Bedford, who died in 1872. William H. was united in marriage to Miss Ellen Thornton, a daughter of the late General Thornton, who distinguished himself while fighting with the allied armies of England and France, against Russia, in the Crimean war of 1854.
William Turner Bedford received his education in his mother country, graduating in 1879 at Christ's College, London, with the honors of the class. He was an apt pupil and diligent in his studies, and the energy which marked his school days has figured prominently in his business career. His first business experience began on the staff in the correspondence department of the large wholesale dry-goods firm of Copestake, Hughes, Crampton & Company. Having read much of the advantages to be gained in America, he determined to try his fortune in this country and early in 1884 sailed for the United States. He landed in New York in February of the same year and at once came to LaSalle, where for a short time he was engaged in the insurance business, but not for a long period. His ability in the newspaper field was soon recognized and he was offered the position of editor of the Peru Daily News-Herald. He was the LaSalle editor of this publication for six years, and to his efforts, largely, is attributed the success of that paper. In June, 1891, he succeeded A. L. Hennessy as editor and publisher of the LaSalle Republican. He changed the name of the paper to the LaSalle Weekly Tribune, and on July 1st of that year issued the first number of the LaSalle Daily Tribune. Although started on a very modest scale, the Tribune now occupies a most enviable position among the newspapers of this county and is essentially the people's paper, giving the news in a comprehensive and interesting form. Mr. Bedford's untiring work in making his paper an excellent one is appreciated by the public and has enabled him to place it on a secure financial basis which is flattering in the extreme. The Tribune is Republican in tone and is earnest and fearless in its advocacy of what it considers right, and equally fearless in its denunciation of wrong, gaining it many supporters among Democrats as well as Republicans; for what the people want is honest convictions, boldly uttered.
Mr. Bedford was married October 20, 1892, to Miss Anna Elizabeth, daughter of George B. Treat, of LaSalle. Being of a social disposition he has attached himself to a number of fraternal orders, being a member of De Soto Lodge, Knights of Pythias; LaSalle Lodge, Mystic Workers of the World; and Deer Park Camp, Modern Woodmen of America. He is always prominent in the councils of the Republican party, and for four years has represented his city on the county central committee. Although a young man he has attained a wide degree of popularity, and the industry and perseverance which have characterized his past bespeak for him an even more successful future.
Extracted by Norma Hass from Biographical and Genealogical Record of LaSalle County, Illinois published in 1900, volume 1, pages 252-253.